English Project Weeks
... is a group of independent native speakers who provide intensive English training in schools and educational institutions all over Austria. We specialise in bringing our unique brand of English training to your school.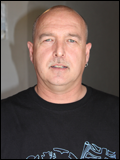 Jon White (E. Dip)
Jon was born in Leamingtom Spa in the heart of England. He spent most of his early life in Cranbrook in rural Kent, also known as the Garden Of England. Jon attended Cranbrook Grammar School where he excelled at sports. After school Jon forged a career in engineering. Jon moved to Austria in November 2001 to be with the love of his life.
As a qualified TEFL instructor Jon has been working in schools all over Austria since 2004. He thoroughly enjoys bringing his sunny outlook on life into the classroom and working with motivated students. "Working with young people is like seeing into the future and that's exciting" he says. Adding "It keeps me young!"
Jon lives in St. Pölten with his wife and loves Austria, describing it as 'a beautiful place'. Jon's interests include reading, going to the movies, travel, flying his kites and spending time with his wife and family. Jon is also a big football fan being a lifelong supporter of Everton FC.
Jon, together with his friend and colleague Kelvyn, co-ordinates the epw team.
Kelvyn Mark Roberts B.A.
Kelvyn was born in June 1984 in Wrexham, Wales. He is a fluent Welsh speaker after attending Welsh language Primary and Secondary schools in the Wrexham area. After being awarded three A-levels in English, Geography and Drama, Kelvyn went on to study for his B.A. degree in Theatre and Media Studies at the University of Wales, Bangor.
Kelvyn moved to Austria in 2005 and now lives in Amstetten, NÖ with his wife. Since 2007 he has worked as a self-employed English Trainer for a number of organisations, travelling to schools all over Austria to teach and help young students learn and have fun with the English language. Kelvyn is now a proud member of the English Project Weeks team and describes his job as "the best job in the world".
Kelvyn's interests include mountain biking, skiing, hiking, reading and anything to do with football. He is a proud supporter of Wrexham F.C.